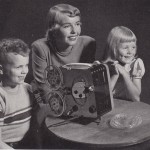 Bertram Lyons, an archivist at the American Folklife Center of the Library of Congress and Editor of the International Association of Sound and Audiovisual Archives, offered tips to New York Times readers looking to preserve their 8mm, 16mm, and 35mm films, slides and photos. In addition to the wealth of current knowledge and resources he offers, Lyons warns readers to be proactive in preserving their originals, arguing that film is the most immediate and lasting format for preserving their family history.
"Film is a wonderful medium because it does not hide its encoded information from the naked eye. With light and a magnifying glass, a human does not need a machine to interpret the images captured on the film. Many other recorded media, especially video, analog audio formats and any digital formats, require an intermediary machine for human consumption. My point here is that you should be thinking about both physical preservation and reformatting. Sure, you will want viewable copies of your films for now and the future, but you will also want to think about the best methods for preserving the physical film for the future as well."
The complete article can be found 
here
.