The Film Advocacy Task Force is a task force committee within AMIA (Association of Moving Image Archivists). 
MISSION STATEMENT
AMIA is a nonprofit international association dedicated to the preservation and use of moving image media. AMIA supports public and professional education and fosters cooperation and communication among the individuals and
organizations concerned with the acquisition, preservation, description,
exhibition, and use of moving image materials.
ACTIVITIES
Provide a regular means of exchanging information, ideas, and assistance; foster collaboration. Support education and professional development.
Organize the Annual AMIA Conference
Develop/host workshops, screenings, and advanced technical symposia.
Publish AMIA's semi-annual journal, The Moving Image, and the quarterly AMIA Newsletter.
Establish and administer scholarship, fellowship, internship and visiting archivist programs.
Honor the work of archivists and archival organizations.
Take responsible positions on matters affecting moving image archives.
Promote professional standards and practices.
Stimulate and facilitate research on matters affecting moving image archives.
Manage AMIA-L and AMIA-Member.
Collaborate with appropriate institutions/organizations to design/promote/implement national moving image preservation policies and plans.
Encourage public awareness and interest in moving image preservation and use as an important educational, historical and cultural resource.
Annual Conference
FATF is a perennial presence at the annual AMIA conference. Stay tuned for what we'll be presenting this year, and see you in New Orleans!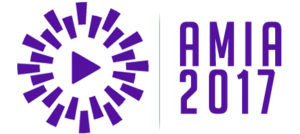 For more information, visit AMIA's website.